1) Preliminary notes
Initial data come from French and Canadian Origin-Destination surveys (from 2009 to 2019).

Only trips occurring weekdays (Monday-Friday) have been considered. Number and proportion of present population aggregated by district and hour have been estimated from survey data. They are therefore subject to a statistical margin of error.

55 city regions are included in the actual version of the Mobiliscope (v4.0). To access city region, use magnify tool
. You can also select city region in the drop-down menu
.
2) Select a map
In the left-hand menu, you can choose one indicator and the map representation, eitheir as aof the total population, or in number or in flows.
To get informations about indicators, click button on the right side.




With flows maps you get number of non-resident people at district level. With links (on mouseover), you can know their main district of residence. This mode is not available on touch screens.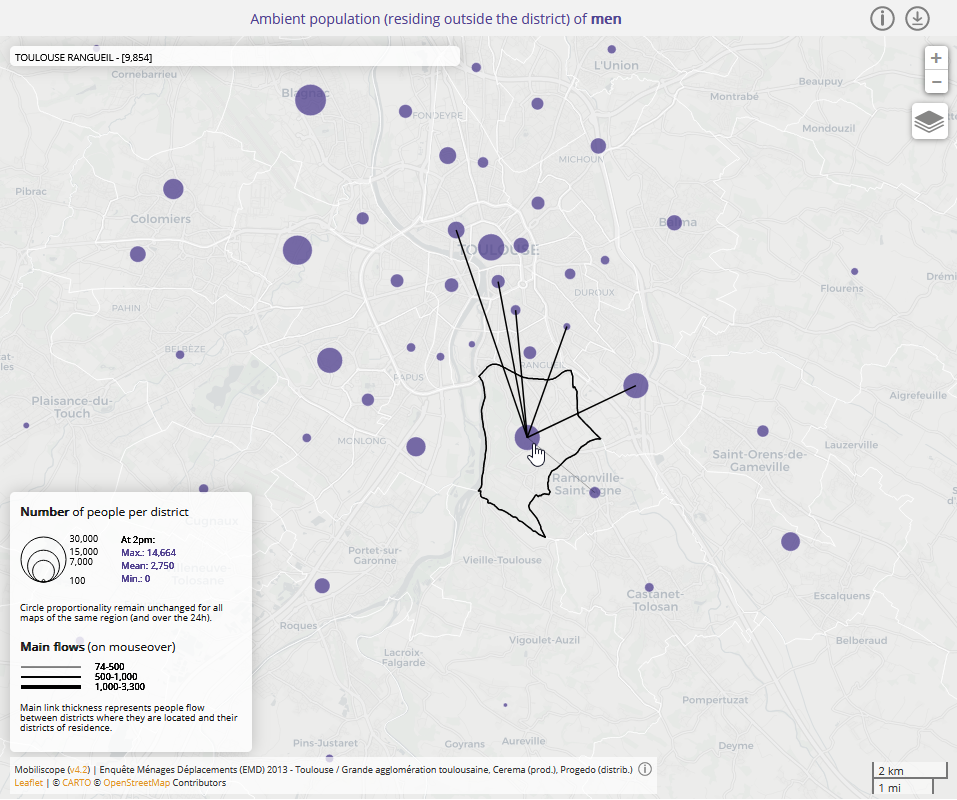 3) Change hours
At the top of the screen, click play button in the timeline to scroll through the hours.



4) Explore a specific district
Select one district by clicking on the map and have a look on the chart at the top right corner of your screen.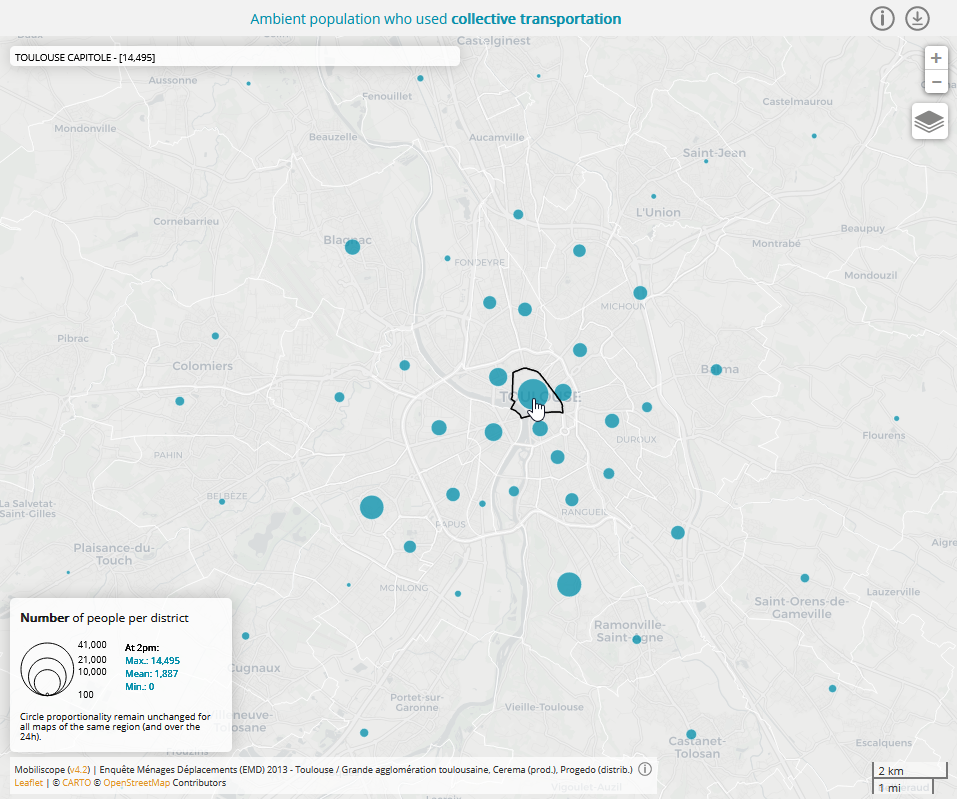 With this chart, you can follow daily evolution in the selected district (for the selected indicator).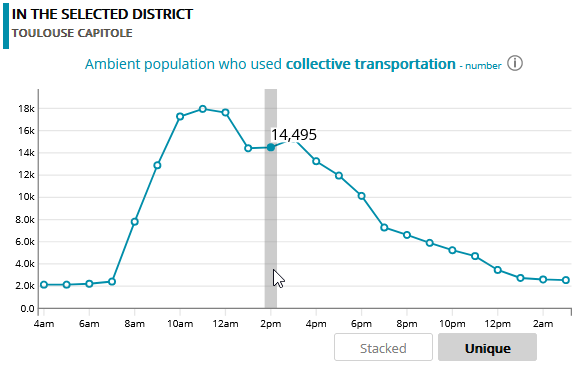 By clicking on 'stacked' mode, you can see all groups of the selected indicator.




Colors on maps and charts have the same color code than the left-hand indicator menu. In the above picture, public transportation are in blue, private motor vehicule are in pink and soft mobility in green.
5) Explore spatial segregation
At the lower right corner, the chart give information about segregation level in the whole region for the selected indicator.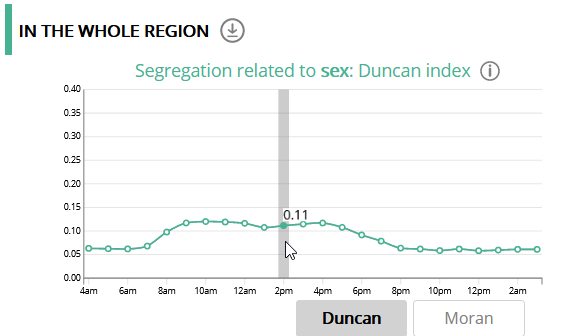 To get informations about the two available indexes (Duncan et Moran), click button on the right side.
6) Change map background
Two OpenStreetMap layers can be displayed: a simple information layer and a more detailed one (by clicking in the
) :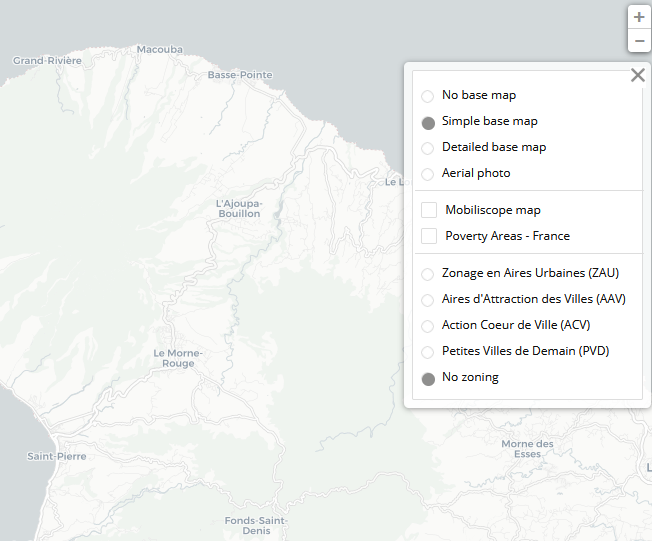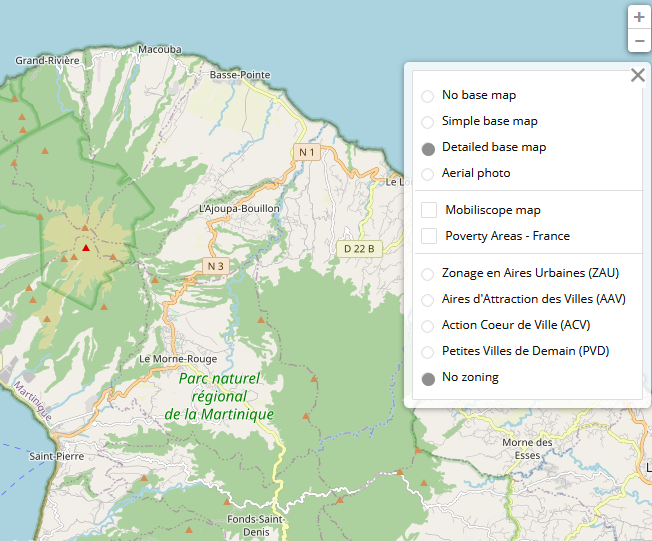 In French city regions, you can also display the layer of 'Poverty Areas' via the layers menu
.


7) Download data
By clicking on the
button above the central map, you can download data agregated data by district and by hour. By clicking on the
button next to the bottom graph, you can also download segregation data (Duncan's or Moran's index) in the whole region over the 24 hours period.
To go further
To get more information about geovisualition platform, indicators and data which are currently used and displayed in the Mobiliscope, you can read Data, Indicators or Geovizualisation pages.
Enjoy!